Bhilwara Rajasthan has witnessed a significant drop in cases after the government adopted a strategy, which reported over 25 coronavirus cases. The model used by Authorities of Bhilwara is now called as the 'Bhilwara Model'. Around 2,000 teams screened 28 lakh across Bhilwara during the complete isolation period, via the door-to-door campaign. 'Maha curfew' was implemented between April 3-13, wherein people can't step out of there and daily essentials are sent to homes.
Due to the continuously rising number of COVID-19 cases in India, the central government has decided to implement the 'ruthless containment' model of Bhilwara district to control the spread of coronavirus.
At the start, Bhilwara district of Rajasthan was among the most distressed places in India. As per the reports, there were zero cases of the COVID-19 on March 18 and suddenly several cases raise to 26 patients on March 30. However, Bhilwara demonstrated a turnabout with just one reported case until the date since March 30.
India's cabinet secretary Rajeev Gauba has praised Bhilwara Authorities for the 'Bhilwara model'. Now, the central government is planning to implement this 'Bhilwara model' in other places in the country.
COVID-19 spread in Bhilwara
At the start, a doctor at a private hospital tested the first positive reported case of coronavirus in Bhilwara on March 19. The number of cases drastically rose within a very short time after the first coronavirus patient was reported in the district.
Most of the cases were either from hospital staff or the patient who had gone for a prescription at that hospital.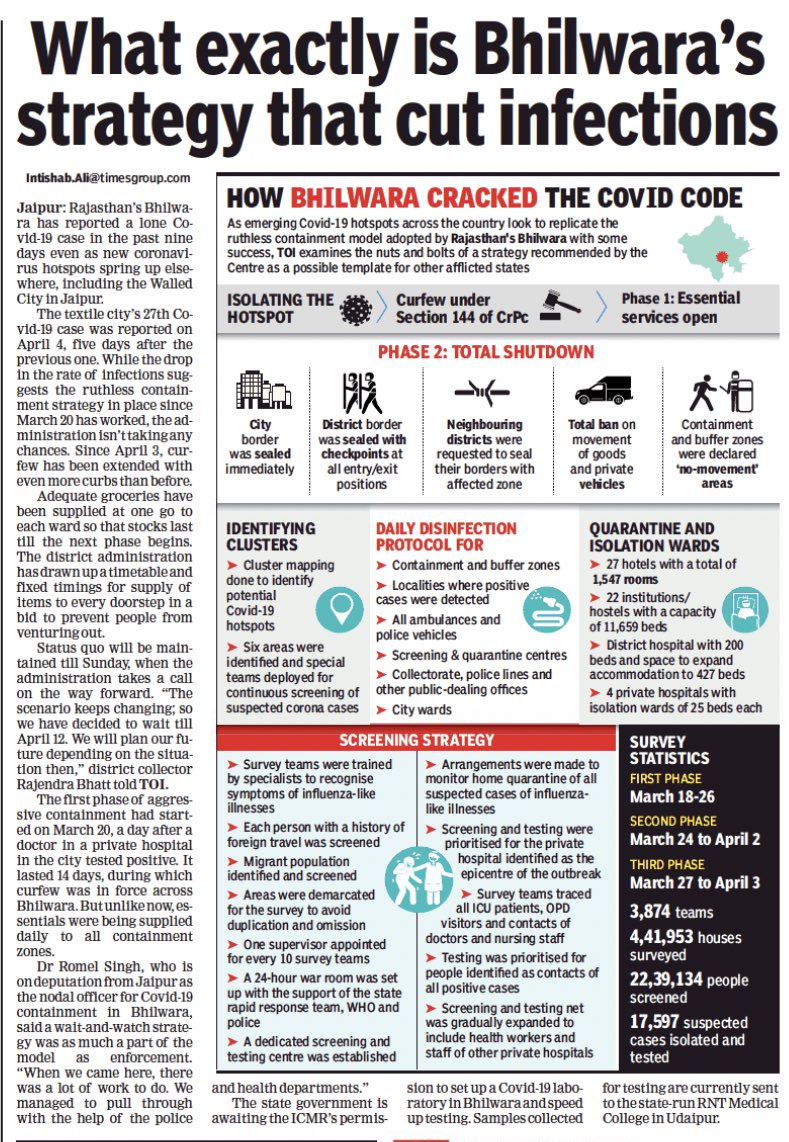 The Bhilwara model of COVID-19 containment?
The steps taken by the administration in Rajasthan's Bhilwara district to control the spread of COVID-19 are:
A "Janta curfew" was imposed from March 20 to April 2. During "Janta curfew", essential services were excused from the order. The local authorities have sealed the borders of the district and have set up check posts at all entry and exit points in the Bhilwara district.
 Screening strategy in city and rural areas
In the second step, many screening and testing centers were established at various hospitals, which was dedicated to 'COVID hospital'. Government vehicles were used to bring people to these screening and testing centers and dropping them back.
Quarantine and isolation wards
The Authorities converted 1,541 rooms of 27 hotels as quarantine centers.
 Monitoring mechanism for city and rural areas
Corona fighters & corona captains were appointed in the city as well as in the rural areas for monitoring of the spread of COVID-19 in the Bhilwara District.