To ease the hardship of people at times of lockdown, the government has provided guidelines for continuing certain activities, effective from April 20.
1. All health services including AYUSH will remain functional. Labs conducting tests for COVID-19 will open and movement between inter and intrastate will be allowed for all medical and emergency purposes.
2. All agriculture, horticulture, fisheries, plantations with a maximum of 50 per-cent of workers, and animal husbandry related activities will remain functional.
3. The financial sector which includes RBI, ATMs, SEBI, IRDAI and insurance companies will remain functional.
4. The social sector will remain functional including Aganwadis who will distribute nutrition and food packages once in 15 days at the doorsteps of beneficiaries- children, lactating mothers, women.
5. All educational institutions and schools will remain closed. Online teaching/distance learning will be promoted.
6. MNREGA work will be allowed with strict implementation of social distancing and use of face masks.
7. Among public utilities, the oil and gas sector, postal services, utility operations including telecommunications and internet services, will remain functional.
8. Movement, loading, and unloading of cargos in inter, as well as intrastate, will be allowed provided all goods traffic will be allowed to ply.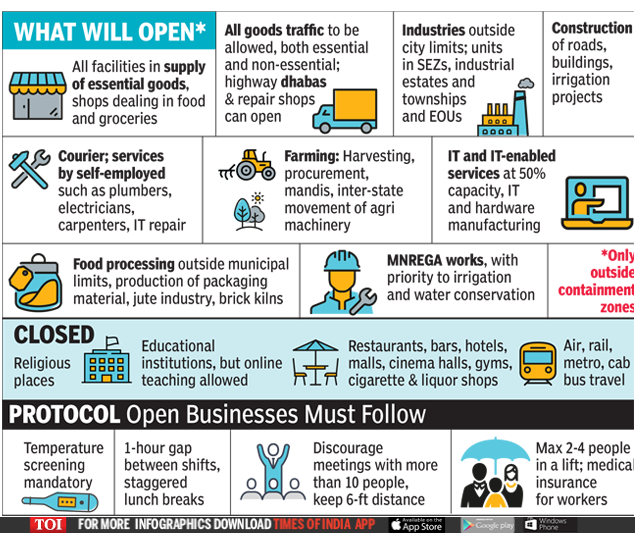 9. Railways will have only transportation and parcel trains as functional. In Airways Operation of Airports and related facilities for air transport for cargo movement, relief, and evacuation.
10. Seaport operations and inland container depots (ICDs) for cargo transport, as well as authorized custom clearing and forwarding agents, will be allowed.
11. Land port operations for cross land border transportation of essential goods, which include petroleum products and LPG, food products, medical supplies will be allowed.
12. Trucks movement and other goods/ carrier vehicles will be allowed with two drivers and a helper provided that the driver is having a valid driving license and an empty vehicle will be allowed to ply upon delivery of the goods or to pick up goods.
13. Dhaba on highways with shops for truck repairs will be allowed if proper distancing is followed as prescribed by state authorities.
14. Essential goods will be allowed for supply as per the instructions provided by MHA. Operations of commercial and private establishments will be allowed as well.