Meerut police had filed a case against Valentis Cancer Hospital, a hospital in Meerut, for posting a controversial advertisement in daily Hindi on Friday.
The Meerut police took this into account after Twitter users pointed this out. A case has been filed against the hospital at Lisadi Gate police station, according to a tweet by Meerut police.
The controversial advertisement by the hospital said that all the Muslim patients and their caretakers who are coming to the hospital must test negative in the COVID-19 test. If failed to bring the test report, they will not be admitted, and the hospital has been asking Muslims to carry their COVID-19 tests report in hand as proof.
This advertisement was published in the Daily Hindi, Dainik Jagran, and has attracted criticisms from all sectors.
This hospital has a facility of 50 beds under the Incholi police station and has been treating cancer patients, from western parts of Uttar Pradesh.
Further in this advertisement, the hospital blamed Tablighi Jamaat, for spreading coronavirus in India. It also blames those Tablighi jamaat people who misbehaved and ill-treated medical staff.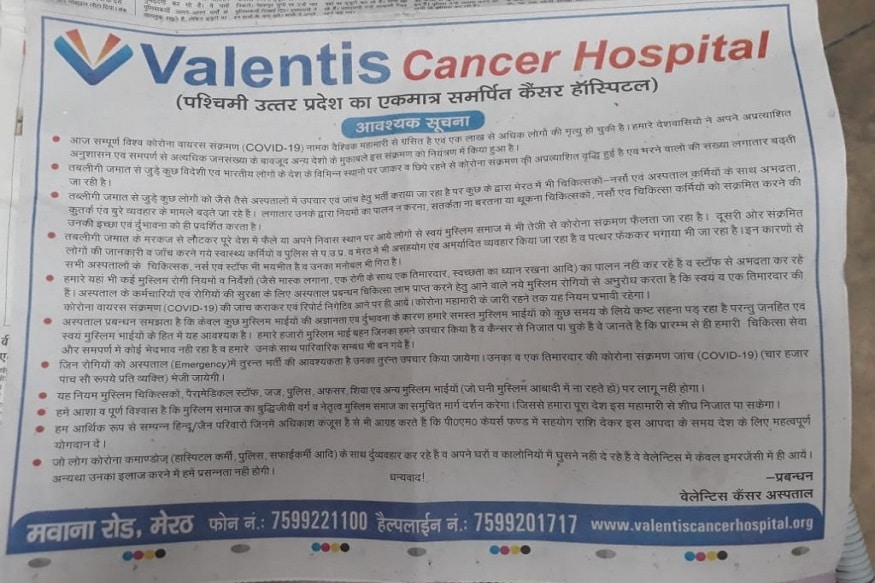 Interestingly, in the advertisement hospital also stated that if emergency cases of any Muslim come then they will have to contribute Rs 4500 each person for the compulsory COVID-19 test. However, this rule shall not apply to Muslim doctors and paramedic staff.
In this advertisement not only Muslims were being called out, but the hospital had also called out some families belonging to Hinduism and Jainism as 'Kanjoos' (misers) and asked them to come in front and donate to PM Cares Fund.
Interestingly, the next day, the Hindu Daily issued a clarification wherein the hospital tendered an apology to the Jain community for unintentionally 'hurting their sentiments'.
However, there was no mentioning of the Muslim community in the same clarification which was issued. The hospital, however in the same clarification has appealed to people from all religions (Hindu, Muslim, Jain, Sikh, Christians) to show unity and fight against the spreading of coronavirus. The hospital, in the last line of the advertisement, made an apology to people from all religions for hurting their sentiments.
Meanwhile, Raj Kumar, the Chief Medical Officer(CMO) of Meerut has said that if the hospital does not tender a public apology then action might be taken against them and their license might be revoked.